Matthew West – The Story Of Your Life (Review)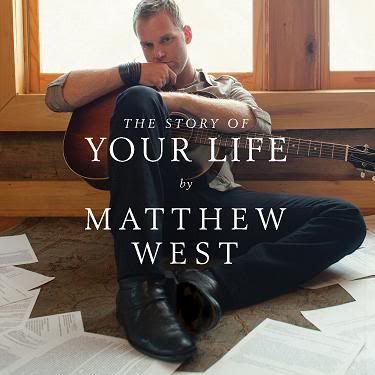 Sparrow
Released October 5 2010
Reviewed By Tyler Hess
It isn't all that unusual for fans to send letters to their favorite artists, telling them about their lives and looking for some kind of recognition or hope that the artist might be able to give to them, but rarely quite like this.  The latest album from Matthew West is in response to the outpouring of messages sent to him from a simple request to send him stories.  Little did he know that he would quickly become inundated with tales of woe and tales of hope that would inspire an album that includes both specific answers to certain stories as well as songs that touch on certain themes of letters that he was sent.  This was the result.
Matthew West's begins "The Story of Your Life" with the title track by posing the question of how you're going to decide to live it.  The contemporary Christian artist continues his acoustically driven pop sound with "My Own Little World" as he ponders if he could step outside of himself to help others.  "Strong Enough" deals with circumstances that expose our weaknesses to the point where we have to accept that God is strong when we are weak.  Looking at stories of people who have been given a measure of relief is "One Less", followed by "To Me" showing the distinction between what some people might think of you and how God may look at you or how a loved one might see you.  "Two Houses" deals with an all too common issue of parents divorcing and the children that get torn apart because of their decision and how God is a Father that will never leave us.  Possibly the most disturbing and emotional track comes with the abuse story driven "Broken Girl" as West sings that "this is a song for the broken girl the one pushed aside by the cold, cold world".  There isn't much variation in pace overall, but "Reason For The World" slows it down a bit for a ballad to tell us that though we don't always know why tough things are going on in our lives we know that God knows and that hope can come out of them.  Although it could relate to people going through any number of battles, "Survivors" is a song for those who are going through or have dealt with cancer in their lives and how know matter how difficult it is or was the great thing is that, as Romans chapter 8 describes, nothing can separate us from the Love of God, not even death!  "Family Tree" deals with those who think they are stuck repeating the same mistakes as their family has made and how through God we are free from being stuck in that because of God's love.  We've all done things that we are ashamed of and some of them are so terrible that it seems like it will follow us forever, but Matthew West wants us to know  that "The Healing Has Begun" when we give these things over to our Healer, our God and Savior.
Quite frankly, it stinks that we live in a world where there are so many different things that can bring us down and that when Matthew West asked for stories that he was sent so many stories of how this world can destroy lives.  The great thing is that he can write songs to reach out to those people and let them know that there is hope for them in God.  Musically, the album is rather upbeat and the stories are interesting enough, even if the sound is well worn and there isn't a ton of variation from song to song.  If you're into someone like Michael W Smith and need something to help you get through the hard times then "The Story of Your Life" just might be what you're needing.
Grade: B-